Paving the path to certainty through intense collaboration.
At PIDC, preconstruction is a highly time-sensitive opportunity to ensure project success — by building the requisite early-phase consensus among the architectural, engineering and construction members of the project team. While establishing a clear view of cost/investment parameters, our integrated planning process requires participants to think across traditional project-team silos. This can lead to a number of value-added contributions including:
Fine-tuning of equipment lists that will drive the final design
Identification and prioritization of long-lead items to safeguard against schedule delays
Creation of instruction sets that help the engineering team to define and streamline its early-phase efforts
PRE-PLANNING APPROACH
Asking the questions that can transform a project.
A building owner needs to achieve cost and schedule certainty as soon as possible. At PIDC, our intensive Pre-Planning Approach reflects our understanding of the market, — along with our ability to capture cost and schedule early — while planning for a safe, effective delivery. This crucial analysis and programming phase extracts the necessary multidisciplinary data to effectively define the project, align scope and budget, and guard against costly disconnects down the road.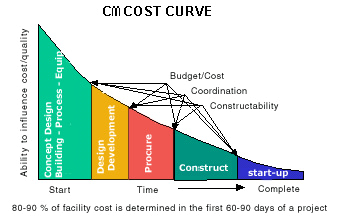 Design it once. Design it right. As demonstrated by this cost curve from the Construction Industry Institute (CII), the first 60 days of a project actually determine its overall fate and effectiveness. This is the reason for PIDC's intense focus on early-phase estimating, planning and collaboration.
ENGINEERING VALUE
Introducing value-added alternatives. While you still have options.
The PIDC concept of engineering value is a set of proactive preconstruction support services — as opposed to the often-reactive, traditional model of "value engineering". This early design-phase commitment provides the project team with responsive cost/benefit analyses of alternative materials, services and systems. While reviewing design deliverables for construct-ability and coordination, we typically offer "Alternatives for Consideration" that promote team discussion on cost-effective, value-added alternatives. Helping to keep a project's design parameters from outdistancing its budgetary constraints.
DELIVERABLES
Exceptional assurances are part of the plan.
In the final analysis, a construction project isn't driven by words. It's driven by work. Whether serving as a construction manager or a design/builder, PIDC establishes a comprehensive set of preconstruction deliverables to drive the project execution.
PIDC's field-proven work processes include exceptional document control, along with cost controls/authorizations that provide true accountability for all project expenditures. The range and depth of our deliverables is tailored to meet the unique requirements of each client and project.
For instance, a formal Concept Design Report (CDR) can be developed to help establish early certainty for scope, cost, schedule and quality. Commonly requested to support a corporate funding request, a CDR captures all conceptual design, cost and schedule documents — while examining phasing, logistics and viable alternatives to support informed and confident decisions.